New Years
Party Favor Kits
Customer Service

New Years Party

New Years Party Ideas
Find New Years Party Ideas such as installing balloon drops, making the champagne toast and singing the New Years Song Auld Lang Syne. At the very least, reat about the midnight champagne toast and the song Auld Lang Syne. These are the 2 most important aspects of any New Year's Eve celebration.
Balloon Drops
Everybody enjoys watching a Balloon Drop on New Yearís Eve. These are easy and fun. Simply inflate latex balloons with air, not helium. (We've heard stories about people using helium in their balloons, only to pull the string and watch the balloons rise to the ceiling. While humorous, itís not the desired effect.) Stuff the balloons in your Balloon Bag or Balloon Drop Net. Attach this to your ceiling and wait until midnight. Then at the stroke of twelve, pull the cord and watch the balloons fall to the ground. This is a great spectacle for everyone.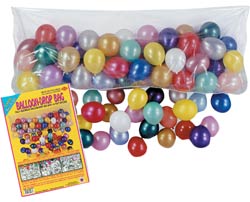 Champagne Toast
The champagne toast at midnight has been a tradition for celebrating New Yearís Eve since the beginning of the twentieth century. This was originally practiced by affluent members of society but has since become popular with nearly everyone for New Years celebrations. Not only is the champagne toast popular but many people now use sparkling apple and grape juices for their toast. If you want to avoid broken glass at midnight after the New Year's Eve Toast, we offer Plastic Champagne Glasses that hold about 4 ounces of champagne and stand about 4 inches tall.
Sing New Years Song
The traditional song for ringing in the New Year in almost every English speaking country in the world is Auld Lang Syne. Everyone recognizes this New Yearís Eve Song but few people know the words or the meaning of song. The essence of the song that we should not forget our old friends and should celebrate a reunion with them. This is a great way to begin the New Year.

The song has five verses but most people simply sing the first one and the chorus. When the clock strikes 12 on New Year's Eve, gather everyone together at your party and sing a little bit of Auld Lang Syne.
Should old acquaintances be forgotten,
And never brought to mind?
Should old acquaintances be forgotten,
And days of long ago !

Chorus:
For old long ago, my dear
For old long ago,
We will take a cup of kindness yet
For old long ago.
New Years Favors
Everyone enjoys making a little noise at their New Years Party. So, consider having some New Year Favors at your celebration. Noisemakers are great for twirling, Blowouts are fun for teasing and Horns are good for those people tooting their horn.
Play Music
What would a celebration be without music? It would probably be a dull party. So, make sure that you have music that your guests will enjoy. You could party like 1999 with Prince or serenade everyone with Sinatra but make sure that you have music that your guests will enjoy.
Make a New Year Resolution
How could anybody start the New Year without a resolution? We know that itís difficult to keep our resolutions but itís impossible if we donít even try. So, make a resolution and tell your family and friends. They will act as support to keep your going. If the resolution falls apart by June, everyone will forget or just get a good laugh.